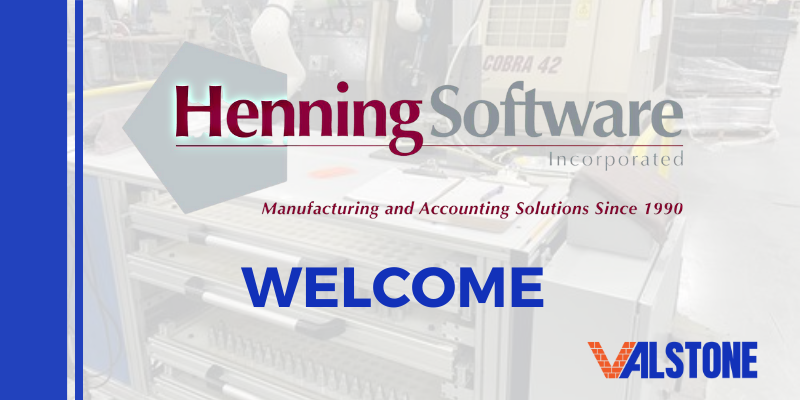 Montreal, May 31, 2023 – Valstone Corporation Inc. ("Valstone"), an international software and technology solutions provider for the industrial vertical, is pleased to announce the acquisition of Henning Industrial Software Inc. ("Henning"), a provider of high-quality enterprise software for small and medium-sized manufacturing businesses.
Henning Software designs, develops, licenses and supports mission-critical operational and financial management software to manufacturers and distributors that enable improved productivity, efficiency, and profitability. Henning's flagship products Visual EstiTrack and Visual Books provide a completely integrated, feature rich, ERP shop management solution designed to manage manufacturing companies.
Richard and Billie Henning, founders of Henning Software, said they searched for years to find and secure a long-term home for Henning Software to ensure that their legacy grows into the future and to provide security for their valued customers and employees.
"We really like Valstone's corporate philosophy of buy and hold forever," stated Rich Henning. "We wanted to ensure Henning Software was being acquired by a true partner, committed to keeping its products intact and who will drive growth by employing their vast playbook of best practices."
Billie Henning added, "We are very excited that Henning Software has been added to Valstone's Industrial portfolio as the first ERP system added to their new ERP industrial vertical solution set. We are proud to be a part of Valstone's company portfolio and to work with a team of successful software professionals. With Valstone's mentoring and guidance, we will ignite further growth as we prepare to launch our new Visual EstiTrack Ultimate ERP system."
Since its founding in 1990, Henning products have evolved to support many types of organizations, including precision manufacturers, job shops, powdered metal, glass, tool and die, fabrication, distribution, assembly, and other industry-related companies, due to the personalization and configurable component of each application.
About Henning Industrial Software, Inc.
Henning Software develops, licenses, and supports mission critical, evolutionary, operational, and financial management software to manufacturers and distributors that enable improved productivity, efficiency, and profitability. Henning Software's software products include Visual EstiTrack ERP, Visual Book Accounting, Touch-Scheduling Board, and our Executive Dashboard. Their software essentially provides everything that a manufacturer needs to manage their entire company.
About Valstone
Valstone has solutions and services that support more than 1,500 organizations throughout the world. We provide technology for heavy construction materials, agriculture, grain, forestry, waste, and recycling industries. The Valstone team is made up of passionate professionals who believe in innovation and service to advance automation in the industries we serve. The diverse and real-world experiences of our team members serving our customers enhance our ability to help customers thrive in a digital world and drive our organization forward.
For more information about the company, please visit https://www.henningsoftware.com/& www.valstonecorp.com.